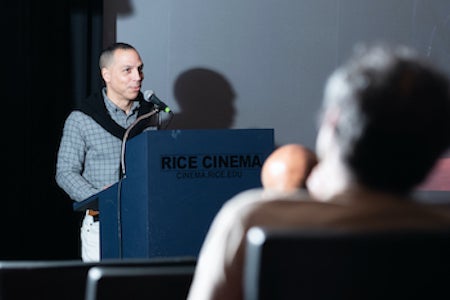 From opera singers giving voice to microscopic alien bacteria in Malik Gaines' "Star Choir" to Hannah Black's "Animal Farm"-meets-"Law and Order" performance piece "Penumbra," the Spring 2020 Visiting Artist Lecture Series has given the Rice community an opportunity to experience creative innovations from some of the most acclaimed artists in contemporary art. The series is sponsored by the Center for African and African American Studies (CAAAS) in partnership with the Department of Visual and Dramatic Arts, with support from the School of Humanities Dean's Office. 
Beginning in January, the Rice Media Center saw students and faculty file into the Rice Media Center cinema on Fridays at noon to hear the artists talk about their creative works: UK-born artist and writer Hannah Black (Jan. 24), Los-Angeles based artist Michael Queensland (Jan. 31) and New York University associate professor of performing arts Malik Gaines (Feb. 7).
"I think the series strikes a chord and shows how much Rice especially values the types of experiences and professionals that they bring to campus," says Taylor Crain (Lovett College Class of 2021), a member of the CAAAS steering committee.
According to Anthony Pinn, the Agnes Cullen Arnold Professor of Humanities and Professor of Religion in the School of Humanities, and director of CAAAS, the lecture series was proposed by the Visual and Dramatic Arts faculty last year as an opportunity to highlight the creative interventions being made by contemporary African American artists. This idea aligned perfectly with CAAAS's goal of shedding light on cutting-edge research and innovation occurring among black creatives and scholars.
Crain explained that being exposed to new voices is invaluable to complicating stereotypical perceptions of African and African American artistic expression. "I'm always interested in expanding the narrative," she says. "I think that because of the way the media is structured, our experiences are presented as monolithic, like 'This is what a black experience is and this is not what it is.' With [Hannah Black's] focus being so unique in how she entwines different disciplines, it shows that what we're able to create can be unlike what you expect based off of what the media shows you."
Indeed, Black's art deals with several historical, sociological and philosophical lines of inquiry and translates them into quirky and sometimes absurd contexts, such as the performed deconstruction of a clay mound as a metaphor for cannibalism. Similarly, Gaines' work with performance group My Barbarian deals with themes of race and class inequality.
For CAAAS steering committee member Zubaidat Agboola (Wiess College Class of 2021) the lectures occupy a compelling intersection between her long-held interest in African American perspectives and fields of study, which she does not often come into contact with as a Kinesiology major.
"I'm not a humanities major and I'm not surrounded by humanities topics, so it was really just refreshing to be able to see that and see people express their ideas in different ways," says Agboola.
Just as the subject matter of the artists' work speaks to interdisciplinary approaches to art, the series itself epitomizes CAAAS's mission to produce synergy and harness collaborative engagement across the university.
"I think we have a rather unique potential in part because both faculty and students at Rice have an intellectual curiosity that cuts across departmental and disciplinary boundaries," says Pinn. "We think in expansive ways that rest on shared thematic concerns as opposed to departmental boundaries; we think across those boundaries and because of that, this center has the opportunity to both influence and be influenced by a large range of students and faculty on campus."
According to Pinn, the Center for African and African American Studies and the Department of Visual and Dramatic Arts see the series as an ongoing collaborative initiative and hope to replicate it with four new African American artists next year. With proposals for a revamped minor and a new graduate certificate currently under committee review, the center hopes to develop programming that will complement the new curriculum.